Today in Baseball History: July 22nd
1986

On July 22, 1986, Ken Griffey of the Atlanta Braves swats three solo home runs against the Philadelphia Phillies. In spite of Griffey's outburst, the Braves lose the game, 5-4, in 11 innings. Griffey becomes the second member of the Braves in the last month to hit three or more home runs as part of a losing effort.
1979
On July 22, 1979, future Hall of Famer George Brett clubs three home runs and piles up five RBIs against the Texas Rangers. Brett's power surge, part of a 23-home run season, lifts the Kansas City Royals to a 7-6 win.
1968
On July 22, 1968, the Atlanta Braves set a major league record by using five relief pitchers in the ninth inning of their game against the St. Louis Cardinals. Ken Johnson, Ramon Hernandez, Claude Raymond, Dick Kelley, and Cecil Upshaw all take part in preserving a 5-4 victory for the Braves.
1963


On July 22, 1963, the New York Mets release colorful outfielder Jimmy Piersall, who was hitting .194. Piersall made headlines in June when he ran around the bases backward after hitting his 100th home run.
1962
On July 22, 1962, Floyd Robinson of the Chicago White Sox collects six singles in six at-bats to tie a modern day major league record. The White Sox' outfielder scores a run and drives in another, helping the White Sox to a 7-6 win over the Boston Red Sox.
1957
On July 22, 1957, former manager Joe McCarthy is inducted into the National Baseball Hall of Fame. He and fellow inductee Sam Crawford are in Cooperstown with five other Hall of Famers for the ceremony.
1954
On July 22, 1954, New York Yankees skipper Casey Stengel makes some unusual changes in order to get more power into the lineup. Stengel puts Phil Rizzuto at second base and installs Mickey Mantle as his starting shortstop. Mantle hits a 10th inning home run to win the game.
1934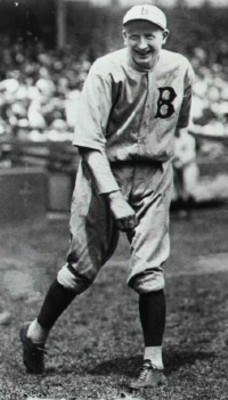 On July 22, 1934, Hall of Fame pitcher Dazzy Vance records his 2,000th career strikeout during the last complete game of his career, in a 4-2 win over the Braves. Vance won seven NL strikeout titles in his career.
1923
On July 22, 1923, Walter Johnson of the Washington Senators becomes the first pitcher to record 3,000 strikeouts in the major leagues. "The Big Train" strikes out five batters in defeating the Cleveland Indians, 3-1.
1909
On July 22, 1909, future Hall of Famer Ty Cobb of the Detroit Tigers steals second base, third base, and home plate during the seventh inning of a 6-0 win over the Boston Pilgrims. Cobb will repeat the stolen base "cycle" three more times in his career.